How We Are Funded
Grants from Arrowhead Agency on Aging, Dept. of Health and Human Services, Essentia Health, Lake Country Power, Medica Foundation, Northland Foundation, Older Americans Act, United Way of Northeastern MN and Victory Grant.
Ely-Bloomenson Community Hospital generously provides office space in support of our services.
Awards from 100+ Ely Women Who Care and Spiritwood Foundation.
Generous donations from businesses and individuals across the country that support the northern Minnesota area.
---
Donate to Northwoods Partners
On behalf of the people that we serve every day, we thank you for your support. Please take an opportunity to review the following Northwoods Partners (NP) program and financial information below that may help with your decision to make a donation.
The following information is also available upon request at the NP office or by US mail: IRS form 1023 and the IRS Letter of Determination of Tax Exempt Status.
---
Charities Review Council Report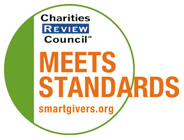 Since 1946, The Charities Review Council has been empowering Minnesota donors to make informed giving decisions and fostering public trust in the charitable sector. In its most recent review, Northwoods  Partners met all Accountability Standards – demonstrating our integrity and transparency to the people who support us.